Dear Readers, in thus Article I provide all upcoming Cyclone list in a single Table and also the name  of cyclone given by which countries which is most important General Knowledge topic for all  competitive examination like Railway NTPC, Group-D, SSC, State PSU, Banking etc
For more knowledge and PDF connect with us : Join Telegram Group 
Cyclone name given by
The name of the cyclone in the world is given by the Member countries of different Meteorological departments and Organization all over the world. The naming of Tropical cyclones in the Indian Ocean region given by 8 pannel member countries  (India, Pakistan, Sri Lanka, Bangladesh, Maldives, Myanmar, Oman, and Thailand).
What is Cyclones?
A cyclone is a rotating of winds anti-clockwise in the Northern Hemisphere around a low-pressure center area seas and oceans. The air rises over and cools, creating clouds and precipitation.
Low pressure and atmospheric instability turn to cyclone if the temperature of water at the sea level rises above 26.5 degrees Centigrade and there is the high relative humidity of the atmosphere at a height of more than 700 m.
Types of Cyclone
Classification of Cyclone according to Speed:  
Low-Pressure Area: Less than 17 knots ( < 31 kmph)
Depression:17 to 27 knots ( 31 to 49 kmph)
Deep Depression:28 to 33 knots ( 50 to 61 kmph)
Cyclonic Storm:34 to 47 knots ( 62 to 88 kmph)
Severe Cyclonic Storm:48 to 63 knots ( 89 to 118 kmph)
Very Severe Cyclonic Storm:64 to 119 knots ( 119 to 221 kmph)
Super Cyclonic Storm: 120 knots and above ( 222 kmph and above)
Cyclones are mainly of two types according to Area:-
Tropical Cyclone
Temperate Cyclone
For More Details Read the link The cyclone in World: Type of cyclone
Cyclone Asani :
The Indian Meteorological Department (IMD) said a low-pressure deep depression creates over southwest Bay of Bengal and the adjoining Andaman Sea. It transformed into a cyclonic storm named "Asani" on Sunday morning .

It will be the 2022 year's first cyclonic storm to develop in the North Indian Ocean region, which includes the Bay of Bengal and the Arabian Sea.

The name of the cyclone "

Asani

" has been proposed by Sri Lanka Country.
The India Meteorological Department (IMD) predicted, heavy to very heavy rainfall in Andhra and Odisha and Winds with speeds ranging between 45-55 km/ hour gusting to 65 kms/hour are likely to hit the coastal districts of Andhra Pradesh and Odisha on May 10 and 11 .

The cyclonic storm brewing in the Bay of Bengal will not make landfall in either Odisha or Andhra Pradesh, but will move parallel to the coast. As per the latest forecast, the storm is likely to move northwestwards towards India's east coast and inch closer to the north Andhra Pradesh-Odisha coast by May 10.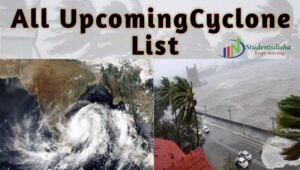 Cyclone Name Table
All upcoming cyclone names list are given below in Table.
List of Name of the cyclone in the Northern Indian Ocean
The naming of the cyclones over the north Indian Ocean given by 13 countries from 2020 after Amphan starting with Nisarga, then Gati, Nivar, Burevi, Tauktae etc
SI No

 

Contributing Nation

 
Bangladesh
India
Iran
Maldives
Myanmar
Oman
Pakistan
Qatar
Saudi Arabia
Sri Lanka               
Thailand
U.A.E.
Yemen
1
Nisarga
Gati
Nivar
Burevi
Tauktae
Yaas
Gulab
Shaheen
Jawad
Asani
Sitrang
Mandous
Mocha
2
Biparjoy
Tej
Hamoon
Midhili
Michaung
Remal
Asna
Dana
Fengal
Shakhti
Montha
Senyar
Ditwah
3
Arnab   
Murasu
Akvan
Kaani
Ngamann
Sail
Sahab
Lulu
Ghazeer
Gigum
Thianyot
Afoor   
Diksam
4
Upakul
Aag
Sepand
Odi
Kyarthit
Naseem
Afshan
Mouj
Asif
Gagana
Bulan
Nahhaam
Sira
5
Barshon
yom
                Booran               
Kenau  
Sapakyee
Muzn
Manahil
Suhail
Sidrah  
Verambha
Phutala
Quffal
Bakhur
6
Rajani
Jhar
Anahita
Endheri
Wetwun
Sadeem
Shujana
Sadaf    
Hareed
Garjana
Aiyara  
Daaman
Ghwyzi
7
Nishith
Probaho
Azar
Riyau
Mwaihout
Dima
Parwaz
Reem
Faid
Neeba
Saming
Deem   
Hawf
8
Urmi
Neer
Pooyan
Guruva
Kywe
Manjour
Zannata
Rayhan
Kaseer
Ninnada
Kraison
Gargoor
Balhaf
9
Meghala
Prabhanjan
Arsham
Kurangi
Pinku
Rukam
Sarsar
Anbar
Nakheel
Viduli
Matcha
Khubb
Brom
10
Samiron
Ghurni
Hengame
Kuredhi
Yinkaung               
Watad
Badban
Oud
Haboob
Ogha
Mahingsa
Degl
Shuqra
11
Pratikul
Ambud
Savas
Horangu
Linyone
Al jarz
Sarrab
Bahar   
Bareq
Salitha
Phraewa               
Athmad
Fartak
12
Sarobor
Jaladhi
Tahamtan
Thundi
Kyeekan
Rabab
Gulnar
Seef
Alreem
Rivi
Asuri
Boom
Darsah
13
Mahanisha
Vega
Toofan
Faana
Bautphat
Raad
Waseq
Fanar    
Wabil
Rudu
Thara
Saffar
Samhah
Upcoming Cyclone List FAQs
Who gave the name of Cyclone Asani ?
The name of the cyclone "Asani " has been given by Sri Lanka Country.