Dear Aspirants, everyone knows that due to COVID-19 Pandemic many works, sports, examination, committee, etc. are postponed. Some important matters are scheduled. Various App, Portal, and Campaign launched by different state governments to combat COVID-19. So Here we provide Quick Points of Monthly Current Affairs of April 2020. April Monthly Current Affairs 2020 covers Important Days with their Theme, New Appointments, Summit and Conference, Awards & Honors, Books with Author, Sports, MoU and Agreement, Ranking and Index, important Scheme, App & Campaign, Science and Technology, and Obituaries, etc in details. These are collected from all newspapers and the Internet. It helps aspirants for SSC, Railway NTPC, Group D, RRB JE, Banking, State PSU & for all competitive exams.
April Monthly Current Affairs 2020
Important Day & Date with Theme of April 2020:
Date

Day with Theme
1st April
Utkal Diwas(in Odisha)
2nd April
World Autism Awareness Day.

Theme :"The Transition to Adulthood".

2nd April
International Children's Book Day.

Theme: "A Hunger for Words."

4th April
International Day of Mine Awareness.

Theme: "Together for mine action"

5th April
National Maritime Day (57th)
5th April
International Day of Conscience.

Theme: "Change the World with Conscience".

6th April
International Day of Sport for Development and Peace
7th April
World Health Day.

Theme:"Support nurses and midwives".

9th April
Play True Day by the World Anti-Doping Agency (WADA).

Theme: Play Safe

10th April
World Homeopathy Day.

Theme-"Linking research with education and clinical practice: Advancing scientific collaborations".

11th April
National Safe Motherhood Day (NSMD)
11th April
National Pet Day
12th April
International Day of Human Space Flight
14th April
B.R. Ambedkar Remembrance Day
14th April
International Day of Action for Rivers

Theme: " Women, Water, and Climate Change".

14th April
World Chagas Disease Day(1st time)
International Mathematics Day.

Theme: "Mathematics is Everywhere".

15th April
World Art Day

(Leonardo Da Vinci's birthday)

16th April
World Voice Day.

Theme: "Focus On Your Voice".

17th April
World Hemophilia Day .

Theme: "Get+ involved".

18th April
World Heritage Day.

Theme: "Shared Cultures, Shared Heritage, Shared Responsibility".

19th April
World Liver Day
20th April
UN Chinese Language Day
21st April
National Civil Service Day
21st April
World Creativity and Innovation Day
22nd April
World Earth Day.

Theme: "Climate Action".

23rd April
English Language Day
23rd April
World Book and Copyright Day.

The slogan for 2020:"KL Baca –caring through reading".

4th Thursday
International Girls in ICT day.

Theme :"Expand Horizons, Change Attitudes".

24th April
National Panchayati Raj Day
24th April
International Day of Multilateralism and Diplomacy for Peace.
25th April
World Malaria Day.

Theme : "Zero malaria starts with me."

25th April
International Delegate's Day (1st)
26th April
World Intellectual Property Day.

Theme: "Innovate for a Green Future".

28th April
World Day for Safety and Health at Work.
29th April
International Dance Day.
30th April
International Jazz Day.
30th April
Ayushman Bharat Diwas.
24th 30th April
World Immunization Week.

Theme: "#Vaccines Work for All"
Important Appointments of April 2020
Name of the Person
Designation
Aalok Kumar

President, CEO of NEC Corporation and NEC Technologies India

Ajay Mahajan

MD & CEO of credit rating agency "CARE Ratings"

Replace Rajesh Mokashi.

Anamika Roy Rashtrawar

MD & CEO of IFFCO Tokio General Insurance. Succeed Warendra Sinha.

Anita Karwal

Secretary in the Department of Education and Literacy.

Anurag Srivastava

Ministry of External Affairs Spokesman

Aramane Giridhar

Secretary in the Ministry of Road Transport and Highways

Arvind Kumar Sharma

Secretary in the Micro, Small and Medium Enterprises Ministry

Birupaksha Mishra

Executive Director of Union Bank of India

BP Kanungo

RBI Deputy Governor

David Li

CEO of Huawei Telecommunications India. Replaced by Jay Chen.

Deepak Mittal

Indian Ambassador to the State of Qatar

Dilip Kumar Patel

Director HR of NTPC

Guillaume Cartier

Chairman for Africa, Middle East, and India markets.

Indu Shekhar Chaturvedi

Secretary in the ministry Ministry of New and Renewable Energy

J Arun Kumar

Head coach of USA men's national cricket team

J Packirisamy

An officer on Special Duty (OSD) in the Union Bank of India

Justice Biswanath Somadder

Chief Justices of Meghalaya high court

Justice Dipankar Datta

Chief Justices of Bombay high court.

Justice Mohammad Rafiq

Chief Justices of Odisha high court

K Ramachandran

Executive Director of Indian Bank

Kapil Dev Tripathi

Secretary to President of India (Ram Nath Kovind)

Lakshminarayanan Duraiswamy

MD of Sundaram Home Finance.

Replaced Srinivas Acharya

Lisa Nandy

UK shadow foreign minister

Madhabi Puri Buch

Whole Time Member (WTM) at the Securities and Exchange Board of India (SEBI)

Maha Prasad Adhikari

Governor of Nepal central bank

Mrutyunjay Mahapatra

The officer on Special Duty (OSD) in the Canara Bank

N Kamakodi

MD & CEO of City Union Bank(reappointed)

Nagendra Nath Sinha

Secretary of the Rural Development Department

Neeraj Vyas

Interim MD & CEO of PNB Housing

P. K. Purwar

Additional charge as CMD of Mahanagar Telephone Nigam Limited (MTNL)

Parag Raja

MD & CEO of Bharti AXA Life Insurance.

Succeed Vikas Seth

Piyush Srivastava

Indian Ambassador to Bahrain

PV Sindhu

Ambassadors for 'I am badminton' awareness campaign.

R V Verma

Part-time chairman AU Small Finance Bank

Raghuram Rajan

Key member in the IMF external advisory group

Rajesh Verma

Secretary in the Department of Agriculture

Rajiv Kumar

Chairperson of Public Enterprises Selection Board(PESB)

Rajnesh Oswal

Permanent Judge of High Court of J&K, Ladakh

Rakesh Sharma

President of IMMA (International Motorcycle Manufacturers Association).

Replace Johannes Loman

Rohit Sharma

Brand ambassador of 'CricKingdom'

Sanjay Kothari

Central Vigilance Commissioner of India

Satbir Bedi

Secretary in Central Information Commission

Shiv Das Meena

Chairman & Managing Director of HUDCO

Suresh N Patel

Vigilance Commissioner in the anti-corruption watchdog CVC.

T.S. Tirumurti

Ambassador of India to UN.

He will replace Sayyad Akbaruddin

Tarun Bajaj

Secretary in the Economic Affairs Department

UB Pravin Rao

Chairman of the National Association of Software and Services Companies (NASSCOM). succeeding Keshav Murugesh,

Vineet Arora

MD & CEO of Paytm General Insurance Ltd

Viswanathan Anand

Ambassador For Environment Education of WWF (World Wide Fund) India
April Monthly Current Affairs Awards and Honours
Award Name
Name of Person

'Hero to Animals Award' by PETA India

Naveen Pattnaik

13th International Arab fiction prize 2020

Abdelouahab Aissaoui (Algerian writer)

for his novel 'The Spartan Court'

Edison Award

Tata Power for its social innovation campaign 'Club Enerji #Switchoff2SwitchOn'.

William E. Colby Award

Adam Higginbotham.

For "Midnight in Chernobyl: The Untold Story of the World's Greatest Nuclear Disaster

Most Innovative AI (Artificial Intelligence) Application Award 2020

UST Global

Skoll Award for Social Entrepreneurship

Indian NGO ARMMAN
2020 Guggenheim Fellowships Award
Pradeep Sharma

A mechanical engineer at the University of Houston

Kavita Ramanan

Professor of Applied Mathematics at Brown University

Dilip Da Cunha

Architect, planner, and teacher at Harvard University and Columbia University

Mukul Sharma

Professor of Earth Sciences at Dartmouth College
Summit & Conference of April Month 2020
UN COP26 Climate Change Summit postponed to 2021.

#MyBookMyFriend campaign launched on World Book Day

44th Session of UNESCO's World Heritage Committee postponed which was scheduled to be held in the city of Fuzhou, Fujian province, China 29th June to 9th July , 2020.
Through Video Conferencing Shri Narendra Singh Tomar participates in the G-20 Extraordinary Agriculture Ministers Meeting.

World's largest maritime exercises in Hawaii again host by US Navy this year.

BRICS Foreign Ministers meeting Ministerial video conference will be hosted by Russia.

In 2nd G20 Finance Ministers and Central Bank Governors Meeting Nirmala Sitharaman participate from India. The meeting was held under the presidency of Saudi Arabia.

In the 5th Annual Meeting of Board of Governors of New Development Bank, Nirmala Sitharaman represented India through video-conference.
Saudi Arabia organizes G-20 Extraordinary Agriculture Ministers Meet through Video Conferencing.
Petersberg Climate Dialogue,11th session hosted by Germany and co-chaired by the United Kingdom.
Agreements & MoU
| | |
| --- | --- |
| Organization or Countries | Purpose |
| India and Bangladesh | To share innovative ideas in response to the emerging economic scenario amid the Corona pandemic in the world. |
| Tech Mahindra with IBM | To set up innovation centres. |
| UP government with Google | To geotag community kitchens. |
| BhartPe & ICICI lombard | To launch 'COVID 19 Protection Insurance Cover' |
| Domino's Pizza with ITC Foods | To launch "Domino's Essentials" service. |
| SCTIMST(Sree Chitra Tirunal Institute for Medical Sciences and Technology) & Wipro 3D Bengaluru | To manufacture automated ventilators |
| National Health Authority (NHA) with "Uber" | To provide transportation service to public healthcare workers who are involved in the treatment of COVID19 patients |
| IIM Bangalore's & ICICI Securities teams | To launch a program for fintech startups. |
| Britannia Industries with Dunzo | To deliver essential items. |
| Airtel Payments Bank with Bharati AXA General Insurance | To launch a COVID19 insurance policy. |
| Larsen & Toubro (L&T) with the Indian Army | To set up an advanced IT-enabled system to operate the Armed Forces network under the Network of Spectrum (NFS). |
| Indian Immunologicals Limited(IIL) With Australia's Griffith University | To develop the COVID19 vaccine using the latest codon deoptimization technology. |
| Hindustan Unilever (HUL) has teamed up with the United Nations Children's Fund (UNICEF) | To support India to combat COVID 19 |
| Bharat Biotech with the US-based company FluGen and University of Wisconsin Madison | To develop a vaccine named "Coro Flu" to fight against COVID 19. |
| Flipkart inks with ICICI Lombard | To launched two health insurance policies for Covid19. |
| United Nations Industrial Development Organization (UNIDO) and the Consumer Unity and Trust Society (CUTS) | To counter the economic impact of COVID19 |
| YES Bank with the Max Life Insurance | To invest in building a digitally-enabled ecosystem, to offer customers a broad range of need-based products and services in order to provide a seamless experience for customers. |
| Paytm Payments Bank Ltd (PPBL) with Mastercard | To issue virtual and physical debit cards |
| Vodafone Idea ties up with Paytm | To launch the 'Recharge Saathi' program |
| PhonePe with Bajaj Allianz General Insurance | For a unique coronavirus hospitalization insurance policy called "Corona Care." it covers 30 days of expenses related to pre-hospitalization costs and post-care medical treatment. |
| Tribal Cooperative Marketing Development Federation of India (TRIFED) with UNICEF | To launch the campaign for Self Help Groups (SHGs) |
| CSIR National Chemical Laboratory (NCL) Pune & Bharat Electronics Ltd, Pune (BEL) | To developed IR Thermometer and Oxygen Enrichment Unit (OEU) |
| AIM's, NITI Aayog & NIC | Jointly launches "CollabCAD" providing a total engineering solution from 2D drafting & detailing to 3D product design. |
BOOKS & Authors
| | |
| --- | --- |
| Books | Author Name |
| The Art of Her Deal: The Untold Story of Melania Trump | Mary Jordan |
| Shuttling to the Top: The Story of P.V. Sindhu | V. Krishnaswamy |
| How the Onion Got Its Layers | Sudha Murty |
Ranking and Index of April Month 2020
| | | | |
| --- | --- | --- | --- |
| Index | India's Rank | Top Rank | Index released by |
| 34th Forbes billionaires list 2020 | Mukesh Ambani 17th position with 44.8 billion | Amazon Founder and CEO Jeff Bezos | Forbes |
| FIFA's latest ranking | 108th | Belgium France Brazil | FIFA |
| Global Press Freedom Index 2020 | 142nd | Norway | Reporters Without Borders |
| Times Higher Education Impact Rankings 2020 | IIT-Kharagpur (57th rank) | University of Auckland | Times |
| Budget transparency and accountability survey list | 53rd | New Zealand | Open Budget Survey |
App, Portal, and Campaign of April 2020
G-20 launched a new initiative "Access to COVID-19 Tools Accelerator" under the presidency of Saudi Arabia.
Madhya Pradesh state government launches 'Jeevan Amrit Yojana' to boost the Immune system.
CISF launches 'e-karyalay' app for the movement of files and documents without physical touch.
"Apthamitra" helpline and app launched by the Karnataka government to fight COVID-19.
Union HRD Minister launches a web-portal YUKTI (Young India Combating COVID with Knowledge, Technology, and Innovation) in New Delhi.
Agriculture Minister launches the "Kisan Rath" Mobile App to facilitate transportation of food grains during the lockdown.
MHRD launches 'Bharat Padhe Online' campaign to improve the online education ecosystem of India.
A web-based dashboard named as "PRACRITI" (PRediction and Assessment of CoRona Infections and Transmission in India) developed by IIT Delhi.
'Assess Koro Na' app launched by the Delhi government.
An app 'Rakhsa Sarv' launched by Chhattisgarh Police to keep an eye on home quarantined people.
'Stranded in India' portal launched by Tourism Ministry to help foreign tourists.
Karnataka government launches 'Corona Watch' app to track the movement history of persons tested positive
A Campaign "Active Case Finding " by Himachal Pradesh government to provide information about the symptoms of COVID-19 to the people at their doorsteps
'Modi Kitchen' set up in the Kovai (Coimbatore), Tamil Nadu has the capacity to serve 500 meals per day.
The government of India launches "Aarogya Setu" app to track Covid-19.

Andhra Pradesh government starts doorstep delivery of pensions.

Online cultural competition "Mo Prativa" launched in Odisha government in collaboration with UNICEF in order to keep children engaged at home during the lockdown period.
All India Council for Technical Education (AICTE) launches "MHRD AICTE COVID-19 Student Helpline Portal".
PhonePe launches coronavirus insurance policy 'Corona Care'
IIT-Roorkee developed a Low-cost ventilator "Prana-Vayu".
'Caruna' initiative launched by Civil servants to fight Coronavirus.
An initiative "Lifeline UDAN" launched by Ministry of Civil Aviation to help India fight against COVID-19
"SAMADHAN" launched by the Ministry of Human Resource Development (MHRD) and All India Council for Technical Education (AICTE) to fight against COVID-19.
'Jagananna Vidya Deevena' Scheme started by Andhra Pradesh Chief Minister, Y. S.Jaganmohan Reddy. Under this scheme fee reimbursement will be credited directly to mothers' accounts instead of college accounts in the coming academic year 2020-21.
India's first automated "COVID-19 Monitoring System App" deployed by Vera Smart Healthcare, Telangana.

Delhi Govt. launches a 5T plan to contain the COVID-19 crisis. 5T plan consists of 5 pillars namely: testing, tracing, treatment, teamwork, and tracking.

An e-learning platform "iGOT" launched by the Government of India to combat COVID-19.
'Dhanwantari' scheme started by Assam Government for home delivery of medicines.
COVIDCARE app launched by Arunachal Pradesh to combat COVID-19
The 'Operation SHIELD' launched by Delhi Government for COVID-19. In the Operation SHIELD: S stands for: Sealing of area; H stands for: Home quarantine; I stands for: Isolation of infected patients; E stands for: Essential services ensured; L stands for: Local sanitization; D stands for: Door to door survey.
A digital banking platform "DigiGen" launched by Jana Small Finance Bank where customers can digitally open a savings account and fixed deposit instantly, any time, anywhere
To help the poor Manipur government starts an initiative 'Food Bank'.
Google launches 'Nearby Spot' to help users find local stores during the lockdown.

YSR Nirman and COVID-19 portals launched by Andhra Govt to fight against the Coronavirus pandemic

Chhattisgarh govt launches 'Cghaat' website for home delivery.
April Monthly Current Affairs 2020: Sports
World Games unveil a new logo for the 2022 edition. This game is to be held in Birmingham, Alabama, US (United States) now be held from July 7 to 17, 2022.

Alireza Firouzja 16 years old from Iran beats World Chess Champion Magnus Carlsen in the final of the Banter Blitz Cup 2020.
Mathias Boe Denmark's Olympic Medallist Announces Retirement from International Badminton.
Runner Jhuma Khatun banned for four years by Athletics Integrity Unit (AIU) after testing positive for banned substances.
Charles Leclerc wins the Chinese Virtual Grand Prix.

National Anti Doping Agency (NADA) in collaboration with the Boxing Federation of India (BFI) conducted an online anti-doping awareness session.

BCCI suspends The Indian Premier League (IPL) 2020, which was set to start on March 29 and end on May 24.

Olympic Council of Asia unveils the mascot of 19th Asian Games scheduled to be held in Hangzhou in 2022. The three robots known as "The Smart Triplets" namely Congcong, Lianlian, and Chenchen are the official mascots of the 19th Asian Games. These unveiled by the Olympic Council of Asia at a digital launch ceremony held in Hangzhou, China.
The mascot for Hangzhou 2022 Asian Para Games is "Feifei". Asian Para Games are going to be held from 9-15, October 2022.

The tennis grand slam Wimbledon 2020 which was originally scheduled between 29 June and 12 July 2020 has been canceled due to coronavirus pandemic.

Kobe Bryant has been selected as a member of the Naismith Memorial Basketball Hall of Fame. The list of 9 members to be included in the Naismith Memorial Hall of Fame are Kobe Bryant, Tim Duncan, Kevin Garnett, Tamika Catchings, Eddie Sutton, Rudy Tomjanovich, Kim Mulkey, Barbara Stevens, and Patrick Baumann.

FIFA World Cup U-17 for Womens now postponed due to Covid-19 which was scheduled to be played in India across 5 cities Navi Mumbai, Guwahati, Ahmedabad, Kolkata, and Bhubaneswar.

Weightlifters of Malaysia & Thailand banned from Tokyo Olympics 2020 for doping violations.
Ben Stokes from England's all-rounder named Wisden's Leading Cricketer in the World 2020 in Men's category.
Ellyse Perry from Australia has been named Wisden's Leading Female Cricketer in the World in the women's category.

India will host the Asian Boxing Championship in November-December this year.

"Tour de France" World famous cycle race tournament has been postponed due to the coronavirus pandemic. Which originally held from the 27th of June in Riviera city, France.

Sharath Kamal becomes the highest-ranked Indian table tennis player.
The world athletics championships 2021 will be shifted to 2022 which originally hosted in Eugene, Oregon from 6th to 15th August 2021.
Deepak Agarwal banned by International Cricket Council (ICC) from all cricket for 2 years.

International Boxing Association (AIBA) has terminated the agreement signed in 2017 by India.so India loses hosting rights of men's World Boxing Championships 2021.

Pakistani batsman Umar Akmal banned by Pakistan Cricket Board (PCB) all forms of cricket for a period of three years over corruption charges.
Sana Mir Former Pakistan cricketer announces retirement from international cricket.
Science and Technology April 2020
ARI Pune develops "bug sniffer" for the detection of pathogens.

India's 1st COVID-19 sample collection mobile Lab launched named "Mobile BSL-3 VRDL Lab".
Scientists from Jawaharlal Nehru Centre For Advanced Scientific Research (JNCASR) scientists develop a "Berberine" based Alzheimer inhibitor.
IIT Bombay student team makes low-cost ventilator "Ruhdaar".

The ozone layer hole is now closed in the North Pole.

Iran launches its 1st military satellite "Noor" into orbit is orbiting 425 km above the earth's surface.
China names its first Mars exploration mission as Tianwen-1.
Kerala government hospital deploys robot "KARMI-Bot" to serve COVID-19 patients

Centre for Nano and Soft Matter Sciences (CeNS) develops sensors for heavy metal detection in water.

CSIR-NAL develops Personal Protective Coverall Suit.
SVP (Sardar Vallabhbhai Patel Institute of Medical Science and Research) Ahmedabad, becomes first to carry out plasma research in view of Covid-19.

IIT Kanpur to develop a low-cost portable ventilator.

Through contact tracing technology Google and Apple collaborate to fight against COVID-19.

IIT Guwahati team develops drones to sanitize large areas such as roads, parks, and footpaths.
NASA selects has selected the "Sun Radio Interferometer Space Experiment (SunRISE)" Mission to study Giant Solar Particle Storms.
DRDO develops bio suit "Personal Protective Equipment".
NASA unveils plan to set up the first human base camp "Artemis" on Moon's south pole by the year 2024.
'Membrane Oxygenator Equipment' has been developed by Genrich Membranes for the treatment of COVID-19 patients.
Sree Chitra Tirunal Institute for Medical Sciences and Technology (SCTIMST)'s scientists designed and developed a superabsorbent material titled "Chitra Acrylosorb Secretion Solidification System".
Google has announced the launch of a virtual Braille keyboard for low vision or blindness and enable these people to type on their phones without additional hardware.

In Rishikesh, AIIMS set up India's 1st remote health monitoring system.

To check patients who are infected with COVID-19 IIT-Bombay develops a digital stethoscope called "AyuSynk".

Uttar Pradesh state became 1st state in India to start "Pool Testing" of Covid-19 samples.

For COVID-19 sample collection DRDO develops kiosk "COVSACK".

Lucknow based King George's Medical University (KGMU) has become India's 1st government hospital to successfully launch the plasma therapy treatment for COVID-19.
April Monthly Current Affairs 2020: OBITUARIES
Person
About
Adam Schlesinger

Singer & songwriter

Andrew Jack

'Star Wars' actor

Arjun Dev

Historian and educationist

Ashok Desai

Former Attorney General of India

Bhai Nirmal Singh

Former 'Hazuri Raagi' at the Golden Temple

Bijay Mishra

Odia Dramatist

Bill Withers

American songwriter

Brahm Kanchibotla

Indian American journalist

Bullet Prakash

Kannada comic actor

Doug Sanders

Golf player.

He was known as the "peacock of the fairways"

Forrest Compton

American actor

Gene Deitch

Animator,film director, and producer

Gita Ramjee

Virologist (scientist)

Graeme Watson

Australian cricketer

Hazarilal Raghuwanshi

Former Madhya Pradesh minister

Honor Blackman

Film actress

Irrfan Khan

Bollywood actor

Jackie du Preez

Zimbabwean cricketer

James M. Beggs

NASA Administrator(6th)

Jock Edwards

Former New Zealand wicket-keeper batsman

John Prine

American folk singer

Kalinga Sasi

Malayalam actor

Laisenia Qarase

Former Fiji Prime Minister

M.K. Arjunan

Malayalam Music composer

M.V. Rajashekaran

Former Union Minister

Mahmoud Jibril

Former Libya Prime Minister

Maria Teresa

Spain Princess

Michael Robinson

Liverpool player

Peter Bonetti

Former Chelsea goalkeeper

Phillip Warren Anderson

Nobel Prize-winning physicist

Photojournalist

Politician

R V Bhuskute

Freedom fighter

Radomir Antic
Ranjit Chowdhry

Actor

Rifat Chadirji

Father of modern Iraqi architecture

Rishi Kapoor

Bollywood actor

Roger Chappot

Swiss Ice Hockey player

Ronny Roy

Photojournalist

Rudratej Singh

BMW India CEO & President

Saharai Oram

Tribal leader and former Odisha minister

Shanti Hiranand Chawla

Classical singer

Sir Stirling Moss

Racer/formula one player

Tim Brooke Taylor

British Comedian

Troy Sneed

Singer

Usha Ganguly

Director, actor, and activist

Willie Davis

American football player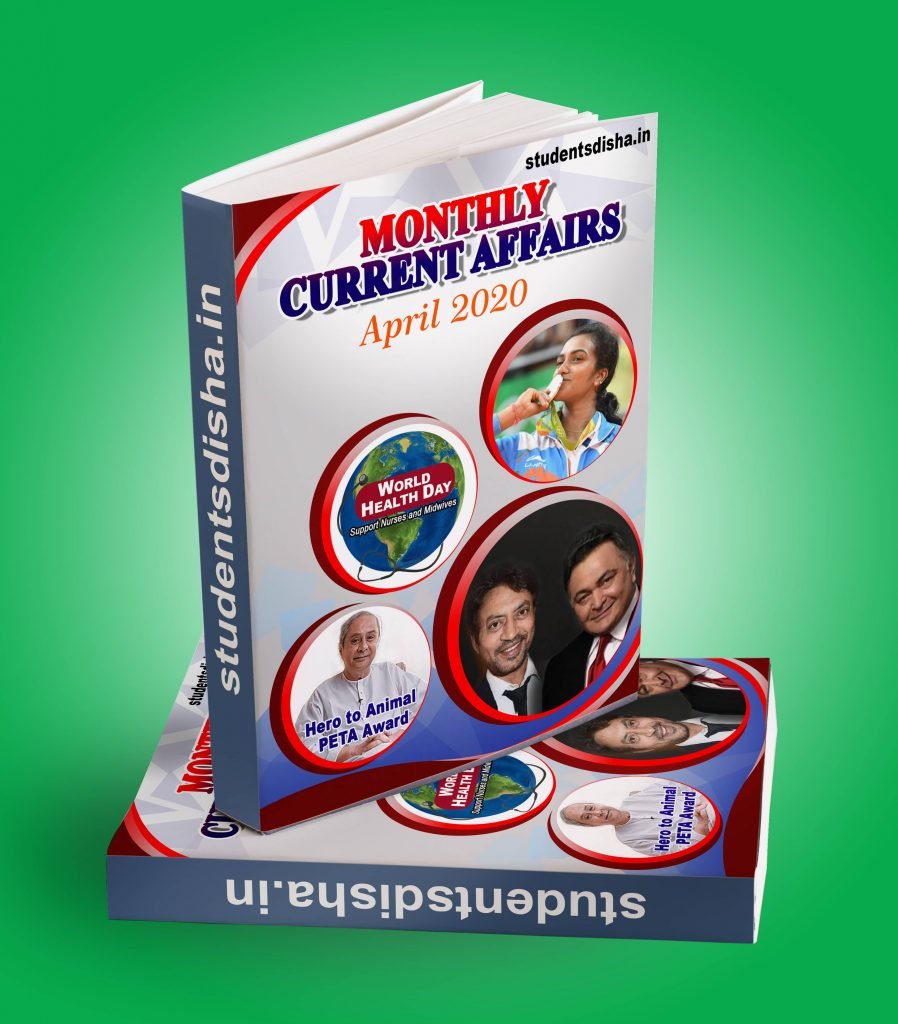 April Monthly Current Affairs 2020 PDF