Dear Aspirants, Here I provide   Monthly Current Affairs of  March 2022 Current Affairs PDF . It covers important new appointments, important Day with their themes, Awards and honors, Books and Author, important government schemes, app, campaign, MoU, Summit and Conference, and Obituaries etc. These March 2022 Monthly Current Affairs help aspirants for all competitive examinations like Railway NTPC, Group D, RRB JE, SSC, Banking, and State PSU, etc.
Other Important Current Affairs Topic are:-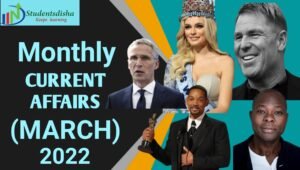 March 2022 Current Affairs
March 2022 Days with Theme
Date
Observation Day/Theme
1st March
Zero  Discrimination Day

Theme – "Remove laws that harm, create laws that empower"

1st March
Jan Aushadhi Diwas

Theme – "Jan Aushadhi-Jan Upyogi"

1st March
World Civil Defence Day

Theme – "Civil defence and management of displaced populations in face of disasters and crises; role of volunteers and the fight against pandemics"

2nd March
46th Civil Accounts Day
3rd March
World Wildlife Day.

Theme –"Recovering key species for ecosystem restoration".

3rd  March
World Hearing Day.

Theme – "To hear for life, listen with care."

4th March
National Safety Day (Rashtriya Suraksha Diwas)

Theme – "Nurture young minds – Develop safety culture"

4th March
World Obesity Day

Theme –"Everybody Needs to Act"

6th March
National Dentist's Day
1st week March
Janaushadhi week

Theme – "Jan Aushadhi-Jan Upyogi"

8th March
International women's day.

Theme- "Gender equality today for a sustainable tomorrow"

9th March(second Wednesday)
No Smoking Day

Theme –"Quitting smoking doesn't have to be stressful."

10th  March (2nd Thursday March)
World  Kidney Day

Theme –"Kidney Health for All"

10th  March

International Day of Women Judges.

18th March(Friday before the March equinox)
World Sleep day

Theme-"Quality Sleep, Sound Mind, Happy World"

13th March
World Rotaract Day

Theme – "Rotary Making a Difference"

14th March
International Pi Day 
14th March
International Day of Mathematics

Theme- "Mathematics Unites!".

14th March
The International Day of Action for Rivers

Theme-  "The Importance of Rivers for Biodiversity"

15th March
World Consumer Right Day

Theme- "Fair Digital Finance."

15th March
International Day to Combat Islamophobia
16th March
National Vaccination Day/ National Immunization Day.

Theme – "Vaccines Work for all".

18th March
Global Recycling Day

Theme – "recycling fraternity"

20th March
International Day of Happiness.

Theme – "Keep Calm, Stay Wise and Be Kind"

20th  March
World Sparrow Day

Theme-" LOVE Sparrows".

20th  March
The World Day of Theatre for Children and young people
20th  March
World Oral Health Day

Theme- "Be Proud Of Your Mouth"

21st March
International Day of Forest.

Theme – "Forests and sustainable production and consumption."

21st March
World Poetry Day
21st March
World Down Syndrome Day.

Theme –"Inclusion Means"

21st March
International Day for the elimination of Racial Discrimination (People of African Descent ).

Theme –"VOICES FOR ACTION AGAINST RACISM"

22nd March
World Water Day

Theme – "Groundwater, Making the Invisible Visible"

23rd March
World  Meteorological Day.

Theme –"Early Warning and Early Action".

23rd March
Shaheed Diwas in India
24th March
World Tuberculosis Day

Theme – "Invest to End TB. Save Lives."

24th March
International Day for the right to trust concerning cross human rights violators & for the dignity of victims.
25th March
International Day of Remembrance of the victims of slavery

Theme- "Stories of Courage: Resistance to Slavery and Unity against Racism"

27th March
World Theatre Day
26th March(Last Saturday of the March)
Earth Hour

Theme – "Shape Our Future"

29th March
World Piano Day
31st March
World Backup Day
31st March
International Transgender Day of Visibility
31st March
International Day of Drug Checking
Important Appointments in March 2022
Name of Person
Position
Ajay Bhushan Pandey

Chairman of the National Financial Reporting Authority (NFRA)

Ajay Singh

Vice President of ASSOCHAM

Akshaye Widhani

CEO of Yash Raj Films (YRF)

Amitabh Bachchan

Brand Ambassador of UpGrad

Ashwani Bhatia

Whole Time member (WTM) of the Securities and Exchange Board of India (SEBI)

Bhushan Patwardhan

Chairman of the National Assessment and Accreditation Council (NAAC) Succeed Jagadish Kumar

Chacko Purackal

MD & CEO of TATA Coffee

CS Rajan
Chairman of the board of the Infrastructure Leasing & Financial Services (IL&FS) (From 3rd April 2022)
Debasish Panda

Chairman of the Insurance Regulatory and Development Authority of India (IRDAI)

Gaurav Negi

CFO of Indigo Airlines

Gilbert Houngbo

Director General of International Labour Organization (ILO)

Harish Chandra Mishra

The Lokayukta of Delhi

Himanta Biswa Sarma

President of Badminton Association Of India

Hisashi Takeuchi

MD and CEO of Maruti Suzuki

IFS officer Renu Singh

Forest Research Institute (FRI) Director

Raj Subramaniam(Indian American)

CEO of FedEx

Jayati Ghosh(Indian Economist)

Member of UN's Advisory Board

Jens Stoltenberg

Secretary General of NATO (Extend Tenure until September 30, 2023.)

Junaid Kamal Ahmad

Vice President of the International Lending Agency

Justice AK Sikri

Chairman of the high powered committee set up to consider the cumulative and independent impact of the Char Dham Mahamarg Vikas Priyojana

Justice DN Patel(Dhirubhai Naranbhai Patel)

Chairperson of Telecom Disputes Settlement and Appellate Tribunal (TDSAT)

Kalpesh Tiwari

Chief HRO for Vahdam India

Kiran Mazumdar Shaw

Fellow of Royal Society of Edinburgh

Lt. Gen. Vinod G. Khandare

Adviser in Defence Ministry

Madhabi Puri Buch(first woman chief of SEBI)

Chairman of the Securities and Exchange Board of India (SEBI)

Mary Kom

Brand Ambassador for Lupin Ltd's Women's Cardiovascular Health Awareness Initiative named Shakti Campaign

Munish Varma

Managing Partner at Soft Bank

N Chandrasekaran

Chairman of Air India

Nitin Chugh

Deputy Managing Director (DMD) of digital banking operations at SBI

Noel Naval Tata

Additional Director and Vice Chairman of Tata Steel

Prabha Narasimhan

CEO and MD of Colgate Palmolive (India) Limited

Pralay Mondal

Interim MD and CEO of CSB Bank

Prashant Jhaveri

New CEO of Flipkart Health+

Rajesh Gopinathan

Managing Director (MD) and Chief Executive Officer (CEO) of Tata Consultancy Services (TCS)

Ranjit Rath

Chairman & MD of Oil India Ltd

Samiran Gupta

To lead microblogging platform Twitter's public policy and philanthropy efforts in India and South Asia

Sanjay Pandey

New Mumbai Police Commissioner

Sanjiv Kapoor

CEO of Jet Airways

Shashi Sinha

chairman of Broadcast Audience Research Council (BARC) India

Serdar Berdimuhamedow

New President Of Turkmenistan

Shashi Sinha

New Chairman of Broadcast Audience Research Council India

Shubman Gill & Ruturaj Gaikwad

Brand Ambassadors for My11Circle

Sumant Sinha

President of ASSOCHAM

T Raja Kumar

President of the Financial Action Task Force (FATF)(From July 1)

Succeed Dr Marcus Pleyer of Germany

TS Ramakrishnan

MD and CEO of Life Insurance Corporation (LIC) Mutual Fund Asset Management Limited.

Succeed Dinesh Pangtey

Vidya Balan

Brand Ambassador of Bharti AXA Life Insurance

Yoon Suk yeol

New President of South Korea
March 2022 Awards and Honours
| | |
| --- | --- |
| Award | Awardee |
| 'Asian Bank of the Year' at IFR Asia Awards 2021 | Axis Bank |
| 'BBC Indian Sportswoman of the Year' award 2021 | Mirabai Chanu (weightlifter) |
| Emerging Player award | Shafali Verma (Cricketer) |
| Wings India Awards 2022: Covid champion' award | Cochin International Airport Limited (CIAL) |
| Wings India Awards 2022 :'Aviation Sustainability & Environment' award for its efficient green practices | Mumbai's |
| National Award for Outstanding Performance for FY 2020 21 | Jammu and Kashmir Bank |
| 1st para athlete to receive Padma Bhushan | Devendra Jhajharia |
| 1st prize in the Ispat Rajbhasha Award for 2018 19 and 2020 21 and the Ispat Rajbhasha Prerna Award for 2019 20 | National Mineral Development Corporation Ltd |
| Abel Prize 2022 | Dennis P. Sullivan(American mathematician) |
| ASSOCHAM Award for Sustainability Excellence in Energy Management | Ctrls |
| Boltzmann Medal 2022 by the International Union of Pure and Applied Physics for his contribution to statistical physics | Professor Deepak Dhar (first Indian) |
| Pritzker Prize 2022(Architecture) | Francis Kere(First African) |
| GD Birla Award for Scientific Research | Narayan Pradhan |
| Governor of the year award 2022 | Mario Marcel |
| Miss World 2021 | Karolina Bielawska ( From Poland ) |
| 'Special Jury Award' at the 7th India Industry Water Conclave and the 9th edition of the FICCI Water Awards | National Mission for Clean Ganga (NMCG) |
| Sportsman of the Year award: Sportstar Aces 2022 | Neeraj Chopra |
| Stockholm Water Prize 2022 | Prof Wilfried Brutsaert |
| TIME100 Impact Awards 2022 | Actress Deepika Padukone |
| US International Women of Courage Award 2022 | Bangladeshi Rizwana Hasan |
| International Women of Courage (IWOC) Award 2022 | Rizwana Hasan(Bangladeshi environmental lawyer) |
| 'Sports Icon' award at the Maldives Sports Awards 2022 | Suresh Raina |
| Women Transforming India Awards (WTI) | The Women Entrepreneurship Platform (WEP) of the NITI Aayog |
| Governor of the year award at the Central Banking Awards 2022 | Mario Marcel, the Governor of the Central Bank of Chile |
| International Women of Courage (IWOC) Award for 2022 | Rizwana Hasa(Bangladeshi environmental lawyer) |
ACI World's Airport Service Quality(ASQ) Awards 2021: From India, six airports have found a place among the 'Best Airport by Size and Region', by the Airports Council International (ACI)
The six Indian airports include:
Category – Over 40 million passengers per year
Chhatrapati Shivaji Maharaj International Airport (CSMIA), Mumbai (5th consecutive year)

Indira Gandhi International Airport, New Delhi (4th consecutive year)
Category – 15 to 25 million passengers per year
Rajiv Gandhi International airport, Hyderabad
Category – 5 to 15 million passengers per year
Cochin International Airport, Cochin

Sardar Vallabhbhai Patel International Airport, Ahmedabad
Category – 2 to 5 million passengers per year
Chandigarh Airport, Chandigarh Important takeaways for all competitive exams:

Airports Council International Headquarters: Montreal, Canada
Books & Authors in March 2022
Book Name

Authors Name

Released by

"Indian Agriculture towards 2030: Pathways for Enhancing Farmers' Income, Nutritional Security and Sustainable Food and Farm Systems"

Organized by NITI Aayog and the Food and Agriculture Organization (FAO) of the United Nations

Union Minister of Agriculture and Farmers' Welfare (MoA&FW), Narendra Singh Tomar

"Modi@20: Dreams Meet Delivery" (life of PM Narendra Modi)

Authored by eminent intellectuals and domain experts.

Edited & compiled by BlueKraft Digital Foundation

Released by The Bharatiya Janata Party (BJP)

"More than Just Surgery: Life Lessons Beyond the OT"

Dr Tehemton Erach Udwadia

–

"On Board: My Years in BCCI"

Ratnakar Shetty

Released by Sharad Pawar, the former president of the MCA, BCCI and International Cricket Council

"Rafa: My Story" (Autobiography)

Rafael Nadal

Launched by John Carlin and Rafael Nadal

"Road to 1000"( a coffeetable book)

–

Released by Sportstar and The Hindu group

"Role of Labour in India's Development"

V V Giri National Labour Institute has published

Released by Labour Minister Bhupender Yadav

"Soli Sorabjee: Life and Times"

Abhinav Chandrachud

–

"Spoorthi Pradatha Sri Somayya"

Syam Prasad

Released by M Venkaiah Naidu

"The Blue Book: A Writer's Journal"

Amitava Kumar

HarperCollins India

"The Little Book of Joy" A picture book will be released in September 2022

14th Dalai Lama (Tenzin Gyatso) & Desmond Tutu

–

"The Millennial Yogi: A modern day parable about reclaiming one's life"

Deepam Chatterjee (Former Indian Army Captain)

Published by Ebury Press of Penguin Random House

"The Queen of Indian Pop: The Authorised Biography of Usha Uthup" (Originally written in Hindi titled "Ullas Ki Naav" )

Vikas Kumar Jha

–

"Tomb of Sand"

Geetanjali Shree

–

"Udaan Ek Majdoor Bachhe Ki"

Mithilesh Tiwari

Released by Bhajan Samrat Anup Jalota

"Unfilled Barrels: India's oil story"

Richa Mishra

"Ungalil Oruvan (One Among You)" autobiography

MK Stalin

Launched by Rahul Gandhi

"Wrist Assured: An Autobiography" (Autobiography Gundappa Ranganatha Vishwanath)

Gundappa Ranganatha Vishwanath(Former Indian cricket captain)

& senior journalist R Kaushik.(co authored)

–
List of MoUs signed by India in March 2022
| | |
| --- | --- |
| Country/Organisation Sign MoU | Purpose |
| Adani Power with IHI Corporation & Kowa Company | To use Green hydrogen derived ammonia as a fuel in the existing thermal plants |
| Axis Bank with IPE Global Limited | For the SAMRIDH Healthcare Blended Finance Facility with finance of upto USD 150 million. |
| BIS with IIT Roorkee | It will focus on standardization and conformity assessment, especially in civil, electrical, mechanical, chemical, and earthquake engineering. |
| Bombay Stock Exchange (BSE) with Bhartiya Swarnkar Sangh (BSS) and Jamshedpur Jewelers Association (JJA) | To enhance commodities derivatives trade and to promote Electronic Gold Receipt (EGR) in Indian markets. |
| HAL with Safran Helicopter Engines | To constantly improve serviceability and reduce cycle time to aid the operational preparedness of the armed forces |
| HPCL with SECI | To enhance cooperation in the field of renewable energy, electric mobility, alternative fuels and develop ESG Projects. |
| IGSTU with Tata Steel and LOI with BASF Chemicals India Pvt. Ltd. | To jointly facilitate research on globally relevant technology & Innovation areas of Climate change, Greening of the Industrial sector, and joint research in emerging technologies. |
| IIE with MoRD |  The agreement has been signed to promote Start up Village Entrepreneurship Programme (SVEP). |
| India Oman with Programme of Cooperation (POC) | To sustainable harness resources in the field of Science and Technology. |
| India signed HCA with ITU | To set up an area office and innovation center of ITU in New Delhi. |
| India with Nepal | The MoU was signed to fulfill the shortages of fertilizer being faced and enhance agricultural productivity in Nepal. |
| India with Singapore | To enhance cooperation in the fields of Science, Technology, and Innovation. |
| India with Sri Lanka | For implementing 3 hybrid power plants on Sri Lankan islands off the coast of Northern Jaffna. |
| India, Nepal and Bangladesh | The technical and knowledge support for the meeting was received by Asian Development Bank. |
| India's ICMR with Germany's DFG | To enhance cooperation in the field of scientific research and technological development. |
| Insolvency and Bankruptcy of India (IBBI) with Indian Banks Association (IBA) | To enhance capacity building in the areas like insolvency, bankruptcy, and allied ones. |
| JKTPO with LEAD | To various sectors like Agriculture, Textile, handcraft, Pharmaceuticals, Rural Development, IT, ITeS, Food Processing, Dairy products, Engineering and Machine tools, etc. |
| Karnataka Bank with SELCO Solar Light Private Limited | The financial support via loans at affordable interest rates to install SELCO based solar energy products will be granted by the bank. |
| NHAI, National Highways and Infrastructure Development Corporation (NHIDCL) with the Ministry of Tourism | For developing Way Side Amenities (WSAs) and View Points at tourist places. |
| NIESBUD with MoRD | To develop a sustainable model to promote entrepreneurship at the grassroots level. |
| NMDC with IIT Kharagpur | To utilize Space Geophysics in Central Indian Diamond Province and is primary to utilize online observing of investigation of information on the BHUVAN stage |
| TDB with Skyshade Daylights Private Limited | The MoU was signed to promote start ups in Daylight Harvesting Technology. |
Summit & Conference in March 2022
Name of the Summit
Organized/Led by
Theme/Aim
Venue

28th DST-CII India -Technology Summit 2022(Confederation of Indian Industry (CII))

Department of Science & Technology (DST)

–

New Delhi

36th International Geological Congress (IGC)

Ministries of Mines and Earth Sciences, the Indian National Science Academy, and the Science Academies of Bangladesh, Nepal, and Sri Lanka.

With the topic Geosciences: The Basic Science for a Sustainable Future

Virtual meeting

3rd National Youth Parliament Festival (NYPF)

Lok Sabha Secretariat and the Ministry of Youth Affairs and Sports

The main moto of the NYPF is to listen to the views and voices of youths between the age group of 18 to 25 years

Central Hall of Parliament, New Delhi

3rd NIC Tech Conclave

National Informatics Centre (NIC)

To enhance the IT sector, develop ICT technologies and their use in various cases

Virtual meeting

BIMSTEC Summit 2022

Sri Lanka

The main outcome of this year's Summit was the adoption and signing of the BIMSTEC charter.

Theme- "Towards a Resilient Region, Prosperous Economies, Healthy People"

Virtual meeting

G7 Agriculture Ministers

German government

Focus on ways to stabilise food markets

 Virtual meeting

India Global Forum's (IGF) annual summit

 India

Techdriven  disruption

Bengaluru, Karnataka

India -Indonesia holds Second Security Dialogue

Ajit Doval and Coordinating Minister for Political, Legal, and Security Issues of Indonesia, Mohammad Mahfud

The importance of traditional friendly relationships and Comprehensive Strategic Partnership between the two countries

 Virtual meeting

Indo-Pacific Military Exchange 2022 Conference

Union Defence Minister, Rajnath Singh

The objective of the conference is to develop and enhance cooperation in the military medicine sector

Virtual meeting

Matua Dharma Maha Mela

All India Matua Mahasangha

Mela celebrated on the occasion of the 211th birth anniversary of Shree Harichand Thakur Ji

Video Conferencing

Mega International Summit on MSMEs' Competitiveness & Growth

Ministry of MSME

It will be attended by entrepreneurs, academicians, policymakers, industry leaders, thought leaders, business chambers, industry associations, startups, social impact organizations, MSMEs, SHGs from India and across the world

India International Centre, New Delhi

OCEANS 2022 Conference and Exposition

IIT Madras and National Institute of Ocean Technology (NIOT)

For global marine researchers, technologists and engineers, students, and policymakers

Chennai

Study in India (SII) 2022 Meeting

High Commission of India

To have an educational exchange between both countries which will enhance knowledge sharing and boost partnership from both ends

Virtual meeting

Vision of Gatishakti

Department for Promotion of Industry and Internal Trade (DPIIT) and the Ministry of Commerce and Industry

 The webinar allowed the dignitaries, industry experts and stakeholders to discuss and share their views to enhance the logistics sector of India

Virtual meeting

Wings India 2022

Ministry of Civil Aviation (MOCA) and FICCI jointly

 To Aviation related Companies/institutes/organizations.

Begumpet Airport, Hyderabad

Yamunotsav

National Mission for Clean Ganga (NMCG)

ITO bridge, Yamuna Ghat

NMCG is constructing 3 Sewage treatment plants at the cost of Rs 2300 crore to prevent all major drains and dirty water from falling in the Yamuna river.

Industry Connect 2022

 The Union Minister of Chemicals & Fertilizers, Dr. Mansukh Mandaviya,

Industry and Academia Synergy

New Delhi.
Scheme, App & Campaign in March 2022
Union health ministry has launched the ICMR/ DHR Policy on Biomedical Innovation and Entrepreneurship. By promoting the Government of India's Make-in-India promote start-up culture, and establish an innovation-led ecosystem at medical institutes across the country.
Ministry of Micro, Small & Medium Enterprises has launched a Special Entrepreneurship Promotion Drive for Women named –"SAMARTH" at New Delhi to provide Skill Development and Market Development Assistance to women and to train more than 7500 women candidates from rural and sub-urban areas in the Financial Year 2022-23.
Union Labour and Employment Minister, Bhupender Yadav launched the 'Donate-aPension' campaign under Pradhan Mantri Shram Yogi Maan-Dhan (PM-SYM) scheme, on March 07, 2022, from his residence and donated the same to his gardener. Under the new initiative, citizens can contribute to the pension fund of their immediate support staff such as domestic workers, drivers, helpers etc, by donating the premium amount.
Chief Minister of Chhattisgarh Bhupesh Baghel introduced the 'Kaushalya Matritva Yojana' by handing out Rs 5000 checks to five beneficiaries for safe motherhood.
"Bhasha Certificate Selfie" campaign launched by the Ministry of Education. The aim of this campaign is to promote the Bhasha Sangam mobile app, launched by the Ministry under the aegis of Ek Bharat Shreshtha Bharat to encourage cultural diversity and promote multilingualism.
The Ministry of Women and Child Development (MoWCD) and NIMHANS Bengaluru launched the "Stree Manoraksha Project" with the goal of improving women's mental health in India.
The granddaughter of Mahatma Gandhi 'Sumitra Gandhi Kulkarni' has inaugurated the web portal "Modi Story":his life journey over the decades. The portal can be accessed at modistory.in
"Bhasha Certificate Selfie" campaign launched by The Ministry of Education India. The aim of this campaign is to promote the Bhasha Sangam mobile appto encourage cultural diversity and promote multilingualism.
"Donate-a-Pension programme" launched by India Government where citizens can donate the premium contribution of their immediate support staff including domestic workers, drivers and helpers. It is an initiative under the Pradhan Mantri Shram Yogi Maan-dhan (PM-SYM) pension scheme.
Tripura Government announced a special scheme "Mukhyamantri Chaa Srami Kalyan Prakalpa" for tea workers. Rs. 85 Crores for its implementation, as a step towards bringing the 7000 tea garden workers of Tripura under the social security net.

ISRO has organized Young Scientist Programme "YUVIKA"( YUva VIgyani KAryakram) for students to impart basic knowledge on Space Technology, Space Science and Space Applications to the younger students with a preference to rural areas.

Tamil Nadu Chief Minister MK Stalin has launched an ambitious skill development scheme for students titled Naan Muthalvan (I am first) at the Kalaivanar arangam in Chennai, TN.
The Delhi government launched an online portal "My EV" for the purchase and registration of electric autos in Delhi.The government will also provide a 5 percent interest subsidy on the purchase of e-autos on loans under the Delhi Electric Vehicle Policy & Delhi has now become the first state to provide such a facility.
Kerala tourism launches 24/7 WhatsApp chatbot 'Maya' to enable tourists to access all information and updates about the tourism ecosystem in Kerala. To enable this, tourists just send a Hi to the WhatsApp no 7510512345, or by scanning the QR code to access the service.
Sports News  in March 2022 Current Affairs
German Open 2022 (Badminton)
German Open 2022 (69thEdition )took place at the Westenergie Sporthalle in  Mulheim Germany, from 8 to 13 March 2022.

From India Lakshya Sen won silver medal in the men's singles final.
ISSF World Cup 2022
International Shooting Sport Federation (ISSF) World Cup 2022 held at Cairo, Egypt from 26thFebruary to 8th March 2022.
The Indian teamtook first place in the medals tally, with four gold, two silver, and one bronze. Norway took second place in the medals tally with six medals (three gold, one silver, and two bronze). France came in third place with three gold medals out of a total of
India in ISSF World Cup 2022 – Seven Medals, with four gold, Two silver, and One bronze
| | |
| --- | --- |
| Category | Name of Playes |
| Gold Medal in Men's 10m Air Pistol | Saurabh Chaudhary |
| Gold Medal in the women's 10m air pistol team event | Nivetha Paramanantham, Esha Singh, and Ruchira Vinerkar |
| Gold medal in the men's 25m rapid fire pistol mixed team | Anish Bhanwala, Gurpreet Singh, and Bhavesh Shekhawat |
| Gold medal in the women's 25m rapid fire pistol mixed team | Anish Bhanwala , Rahi Sarnobat and Rhythm Sangwan |
| Silver Medal in the women's 10m air pistol team event | Esha Singh |
| Silver medal in the men's 25m rapid fire pistol team | Anish Bhanwala, Gurpreet Singh, and Bhavesh Shekhawat |
| Bronze  medal in the 50m rifle 3 positions mixed team event | Akhil Sheoran and Shriyanka Sadangi . |
World Athletics Indoor Championships 2022
The 18th World Athletics Indoor Championshipswas held from 18 to 20 March 2022 in Belgrade, Serbia.

Ethiopiaheaded the medal table, with 9 medals. United States, second .

Murali Sreeshankar national indoor record with a 7.92m leap while sprinter Dutee Chand

 crashed out in the 60m heats at the World Athletics Indoor Championships .
ICC Women's Cricket World Cup 2022
ICC Women's Cricket World Cup 2022 is the 12th edition of Women's Cricket World Cup which was held in New Zealand in March and April 2022.
Champions-Australia (7th Title)
Runners up-England
Bahrain Grand Prix 2022: F1 Race
F1 Bahrain Grand Prix 2022 won by Ferrari's Charles Leclerc
Mexican Open 2022 (Also known as Acapulco title)
It was the 29th edition of the men's Mexican Open.
winners are:-
Single-Rafael Nadal (Spain)

Double- Feliciano Lopez Díaz-Guerra (Spain) and Stefanos Tsitsipas( Greek)
World Para Athletics Grand Prix 2022
World Para Athletics Grand Prix 2022 held at Dubai,UAE.

India won 14 medals in World Para Athletics Grand Prix 2022.

Overall India won five gold medals, six silver and three bronze to claim eighth place in the medals table.

Someswara Rao Ramudri(Long jumper), Mohit bags (javelin thrower)gold medals at World Para Athletics Grand Prix individual.

Sprinter Pranav Prashant Desai gold medal in men's 200m.

Paralympian Dharambir claimed his second silver medal.

Devendra Singh also clinching silver in the F44 men's discus throw.

Jayanti Behera claimed the silver medal in 200 metre.

Para-archer, Pooja Jatyan has scripted history as she became the first Indian to win a silver in an individual section of the Para World Championships in Dubai, UAE.

Jyoti Behera claimed bronze in 400 m women's final T37/38/47 final.
IPL 2022(15th edition)
15th edition of Indian Premier League 2022 to begin The 15th edition of Indian Premier League – TATA IPL 2022 will begin on 26th March.

There are 10 teams to compete for four playoff spots in this edition.

BCCI added two new teams, Lucknow Super Giants and Gujarat Titans for this season of IPL.

A total of 74 T20 matches are to be played.
Singapore Weightlifting International 2022
India secures 8 Medals including six(6) Golds and One(1) Silver and One(1) Bronze each.

Each of the eight Indian lifters who registered for Singapore International won medals and secured their spots at the Birmingham 2022 Commonwealth Games, scheduled to be held in July-August.

India now has total of 12 weightlifters qualified for the Commonwealth Games 2022 in Birmingham.
Indian weightlifters qualified for Commonwealth Games 2022
| | |
| --- | --- |
| Name | Category |
| Mirabai Chanu | women's 55kg |
| Bindyarani Devi | women's 59kg |
| Popy Hazarika | women's 64kg |
| Usha Kumara | women's 87kg |
| Purnima Pandey | women's +87kg |
| Sanket Mahadev | Men's 55kg |
| Chanambam Rishikanta Singh | Men's 55kg |
| Jeremy Lalrinnunga | Men's 67kg |
| Achinta Sheuli | Men's 73kg |
| Ajay Singh | Men's 81kg |
| Vikas Thakur | Men's 96kg |
| Ragala Venkat Rahul | Men's 96kg |
Mithali Raj becomes first woman to play in six World Cups.
Mithali Raj became the only third cricketer and the first woman to appear in six World Cups, joining the iconic Sachin Tendulkar and Pakistani great Javed Miandad.
Priyanka Nutakki becomes the 23rd Woman Grandmaster of India:
19-year-old Priyanka Nutakki secured her final WGM-norm at MPL 47th National Women Chess Championship. She scored 7.0/9, performed at 2348 to become India's latest Woman Grandmaster on 2nd March 2022.
Asian Youth and Junior Boxing Championships:
Five Indian women boxers grabbed gold medals in the youth competition of the Asian Youth and Junior Boxing Championships in Amman, Jordan.

Tamanna in 50 kilograms and Nivedita Karki in the 48-kilogram category won gold medals while Shaheen Gill in 60 kilograms, Ravina in 63 kilograms and Muskan in 75 kilograms also bagged gold medals.
India to host FIDE Chess Olympiad 2022 in Chennai:
India has won the bid to host the FIDE Chess Olympiad 2022 in Chennai. It was originally scheduled to be held in Russia.

This is the first time India hosts the FIDE Chess Olympiad since its inception in 1927.
Pankaj Advani Won Asian Billiards title for 8th time:
Ace Indian cueist Pankaj Advani defeated compatriot Dhruv Sitwala by six frames to win his eighth title at the 19th Asian 100 UP Billiards Championship 2022 in Doha.

This is Advani's 40th international title and 8th Asian crown.

Pramod Bhagat wins two silver, one bronze in Spanish Para-Badminton International: Pramod Bhagat won two silver and a bronze medal and S ukant K adam ended up with a Bronze in Spanish Para-Badminton International 2022. World champion Pramod Bhagat won the men's singles SL3 Silver and mixed doubles SL3- SU5 Bronze at the Spanish Para-Badminton International 2022.

Indian Wushu player Sadia Tariq has won a gold medal in the junior tournament at the Moscow Wushu Stars Championship 2022. 15-year-old Sadia Tariq hails from Srinagar in Jammu & Kashmir.

31st Southeast Asian Games will be held in Vietnam from May 12 to 23, 2022.The Games will feature 40 sports with 526 events, attracting around 10,000 participants
Obituaries in March 2022
| | |
| --- | --- |
| Name of the Personality | Field |
| Alan Walbridge Ladd Jr. | American Film Industry Executive and Producer |
| Bhim Bahadur Gurung | 3rd Chief Minister of Sikki |
| Eugene Newman Parker | American Astrophysicist |
| General S F Rodrigues | Chief of the Indian Army from 1990 to 1993 and Governor of Punjab from 2004 to 2010 |
| Jaiprakash Chouksey | Noted Film Critic and Writer |
| Kumudben Manishankar Joshi | Former Governor of Andhra Pradesh |
| Miguel Van Damme | Veteran Belgian Footballer |
| Rafiq Tarar | Former Supreme Court Judge and President of Pakistan |
| Ramesh Chandra Lahoti | Former Chief Justice of India |
| Rodney William Marsh | Former Australia Cricketer (wicketkeeper) |
| Rupiah Banda | Former President of Zambia |
| Scott Hall | WWE Hall of Famer |
| Shahabuddin Ahmed | Former President of Bangladesh |
| Shane Warne | Legendary Australia Spinner |
| Shri RC Lahoti | Former Chief Justice of India |
| Sonny Ramadhin | West Indian Cricketer |
| Soumeylou Boubèye Maïga | Former Prime Minister of Mali |
| Stephen Wilhite | Creator of the Graphics Interchange Format (GIF) |
Miscellaneous March 2022 Current Affairs PDF
UN World Happiness Report 2022
India Ranks-136th
Top –Finland

Bottom country- Finland

Total country-146
Finland has topped the 2022 World Happiness Report, for the fifth continuous year. Afghanistan has been ranked as the unhappiest country in the world, at 146th position
The government of India has launched an evacuation mission named "Operation Ganga" to evacuate Indian nationals from Ukraine due to the Russia-Ukraine tension.
India`s largest reclining statue of Lord Buddha is being built in Bodh Gaya. Built by Buddha International Welfare Mission, the statue will be 100 feet long and 30 feet high. Lord Buddha is in the sleeping posture in the statue. The construction of the giant statue started in the year 2019.
The state government of Maharashtra has announced to set up the country's first medical city named as 'Indrayani Medicity' in Pune, to provide all kinds of specialised treatment under one roof,
The country's first Artificial Intelligence & Robotics Technology Park (ARTPARK) was launched in Bengaluru, Karnataka.
Union Civil Aviation Minister Jyotiraditya Scindia stated that the Government has set a target of building 220 new airports by 2025, citing the Civil Aviation industry as a critical component of India's economy.
Union Minister of Women and Child Development, Smriti Irani inaugurated the ten-day mega Red Fort Festival, 'Bharat Bhagya Vidhata' at Red Fort in Delhi.
India's first ambulance for street animals has been launched in Chennai, Tamil Nadu. It has been started by the Blue Cross of India in collaboration with the international animal welfare organization "Four Paw"

Union Minister RK Singh launches Virtual Smart Grid Knowledge Center and Innovation Park virtually as part of Azadi ka Amrit Mahotsav Programme.

Ahimsa Vishwa Bharti organisation established by Ambassador of Peace, Eminent Jainacharya Dr Lokeshji will establish India's first World Peace Center in Gurugram, Haryana.
Country's first Digital Water Bank AQVERIUM launched in Bengaluru. It is formed by Aqua Kraft Group Ventures, next-generation sustainability, and impact enterprise focused on providing clean drinking water & sanitation.
Visakhapatnam railway station will be implementing the 'One Nation, One Product' concept, the Railway Board informed.
Jitendra Singh has announced the launch of Data-Driven Research to Eradicate TB- "Dare2eraD TB".

India's First-ever SAI National Centre of Excellence for Mountain Terrain Biking and Bicycle Motocross to be set up in Shimla.

Kerala Becomes First State to Introduce Carbon-Neutral Farming in selected locations. In the first phase, carbon-neutral farming will be implemented in 13 farms under the agriculture department and tribal areas, and steps are on to convert the State Seed Farm at Aluva to a carbon-neutral farm. In the second phase, model carbon-neutral farms will be developed in all the 140 Assembly
Music instrument of Tamil Nadu Narasinghapettai Nagaswaram gets GI tag under musical instruments of class 15. It is handmade in Narasingapettai village in Thanjavur.
Nagaland becomes first state to paperless Assembly by implementing National e-Vidhan Application programme.
Bihar has become the first state in the country to introduce the concept of a dynamic map for villages which will get updated every time land ownership changes hands.
Gujarat became India's first city to get a unique steel road, made with 100% processed steel slag at the Hazira Industrial Area in Surat, Gujarat.The steel slag road has been built by ArcelorMittal Nippon Steel India. It is sponsored by the Council Of Scientific And Industrial Research (CSIR) and the Central Road Research Institute (CRRI) with help from the Ministry of Steel and Policy Commission and the NITI Aayog.

US Agency for International Development (USAID) and Mastercard have partnered to foster digital empowerment of women in India through an initiative called 'Project Kirana'. Project Kirana is a business development and digital financial literacy programme for women entrepreneurs.

The World Bank (International Bank for Reconstruction and Development, IBRD) priced the Wildlife Conservation Bond (WCB) in support of South Africa's efforts to conserve endangered species of Black Rhino. WCB is also known as "Rhino Bond". It is a five-year $150 million Sustainable Development Bond.