Current Affairs 2019- PDF download. Dear Students, Here are 31st May 2019 Daily important Current Affairs pdf download. We are providing you Important Current Affairs, which have unique updates of all daily events from all newspapers. So It helps aspirants for SSC, Railway, State PSU & all competitive exams. Happy Reading……
31st May 2019 Current Affairs: IMPORTANT DAYS
World No-Tobacco Day: 31st May
31st May observed as the World No Tobacco Day (WNTD) by World Health Organization (WHO) every year and global partners to raise awareness on the harmful and deadly effects on Tobacco use and smoke exposure, and to discourage the use of tobacco in any form.
Theme: "Tobacco and lung health".
31st  May 2019 Current Affairs: APPOINTMENTS
Sandeep Patil Former Flipkart Executive appointed as India Managing Director of Truecaller
Sandeep Patil Former Flipkart Executive appointed as India Managing Director of Truecaller.
Also, He served as the head of Flipkart until his new appointment with Truecaller.
As a result, Patil supervises the teams of truecaller based in Delhi, Mumbai and Bengaluru.
India is the user base and the largest market for Truecaller with 60-70% of global revenue
Truecaller has around 100 million daily active users in the country.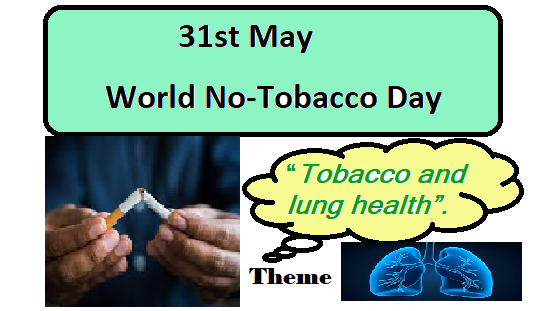 df
Vice Admiral Karambir Singh became new Navy Chief
The Armed Forces Tribunal made Vice Admiral Karambir Singh to become the next Navy Chief while it deferred for four weeks the matter of Vice Admiral Bimal Verma which seeks to quash Singh's appointment.
Karambir Singh, who is the Commander-in-Chief of the Eastern Naval Command, will take over as the Navy Chief on 31st May 2019.
31st May Current Affairs 2019 : NATIONAL/INTERNATIONAL NEWS
PM of India Narendra Modi takes oath as PM for the second term
PM Narendra Modi was sworn in as Prime Minister of India for the second consecutive term. The oath of Office and Secrecy to him and a team of 57 ministers at a glittering ceremony on the forecourts of the Rashtrapati Bhawan, New Delhi administered by President Ram Nath Kovind .
Airport of Indore "Devi Ahilya Bai Holkar "Airport Gets International Status
Devi Ahilya Bai Holkar Airport of Indore, Madhya Pradesh was declared as International Airport.
The airport is named after Maharani Ahilya Bai Holkar of Indore
This Airport is the busiest airport in Central India and it is operating 24*7.
It is conferred with the World Standardization Certification by the United Kingdom.
Gujarat traffic police to use laser guns to curb overspeeding
To equip the traffic police with 'laser guns' for detection of over-speeding has decided by vehicles by the Gujarat government. The traffic police branch of state has purchased 39 such high-tech guns at a cost of Rs.3.9 crore.
As a result, 5 of these US-made devices will be given to the Ahmedabad city police, and every district police force will also be provided one of these guns.
Former basketball player, Lamar Odom launched a new book 'Darkness to light'
Former American professional basketball player, Lamar Odom, aged 39, launched a new book titled 'Darkness to light'.
This book reveals the dark secrets of his life.
In his book, he has opened up about his relationship with ex-wife Khloe Kardashian, his difficult childhood, past overdoses and addictions to drugs, alcohol, and sex.
Odom played on the United States national team, winning a bronze medal in the Olympics in 2004 and a gold medal in the FIBA World Championship.
Also, He fell into a coma and was hospitalized with life-threatening medical problems.
Odom has since recovered from his health scare and obtained drug treatment.
Andhra Pradesh CM Y S Jagan Mohan Reddy opening of a call centre to receive complaints
Andhra Pradesh CM Y S Jagan Mohan Reddy announced the opening of a call centre in the CMO to receive complaints from the people about corruption, discrimination or on not receiving government schemes' benefits.
Almost He added by August 15, four lakh jobs will be provided with the appointment of village volunteers.
Trump announces tariffs on all Mexico goods
President of US Donald Trump has announced tariffs on all goods coming from Mexico in a bid to curb illegal immigration. From 10th June 2019, a five percent tariff would be imposed and slowly raised until the Illegal Immigration problem is remedied.
He has declared a national emergency to tackle what he claims is a crisis at the US southern border.
SPORTS
Hosts England defeated South Africa by 104 runs in the 2019 World Cup opener at Kennington Oval in London. England and South Africa have faced each other in World Cup 7 times now, with England winning 4 times.
World number 3 Roger Federer became the 1st player in history to play 400 Grand Slam matches.
DEATH
Binny, India's Only Orangutan Dies In Odisha Zoo
A 41-year-old, India's only orangutan "Binny", passed away around 9:40 pm due to old-age related ailments followed by respiratory tract infection at Odisha's Nandankanan Zoological Park .
Experts from the College of Veterinary Science and Animal Husbandry OUAT, Odisha was treatmenting Binny for the last one year by who were under constant advice of the Orangutan experts from UK and Singapore.
you can download pdf. the link is given Below
[su_button url="https://studentsdisha.in/wp-content/uploads/2019/06/Current-Affairs-pdf-download.pdf" target="blank" background="#e31add" color="#fffdfd" size="5″ center="yes" radius="round" icon="icon: hand-o-right"] Download[/su_button]