15th March 2019 Daily Current Affairs: Dear Students, Here is 15th March 2019 Daily important Current Affairs. We are providing you Today's Important Current Affairs, which have unique updates of all daily events from all newspapers. It helps you for SSC, Railway, State PSU & all competitive exams. Happy Reading……
IMPORTANT DAYS
World Consumer Rights Day
In India, this day is celebrated as Viswa Upabhokta Adhikar Diwas.
The theme of World Consumer Rights Day  2019 is: "Trusted Smart Products".
World Sleep Day 2019World Sleep Day is observed annually on March 15 to celebrate the benefits of good and healthy sleep.

The theme of this year's World Sleep Day is 'Healthy Sleep, Healthy Aging'.
APPOINTMENTS
S S Mundra appointed as chairman of Acuite Ratings
Acuite Ratings and Research said that former deputy RBI governor S S Mundra has been appointed as non-executive chairman to its board with immediate effect. In high four-decade-long banking career, Mundra has served as Deputy Governor of Reserve Bank of India and as Chairman and Managing Director of Bank of Baroda.
Niti Aayog CEO Amitabh Kant to head transformative mobility mission
Niti Aayog CEO Amitabh Kant will head the National Mission on Transformative Mobility and Battery Storage, which is being set up to promote clean and sustainable mobility initiatives in the country. The Union Cabinet had approved setting up of the National Mission on Transformative Mobility and Battery Storage.
"Nitin Paranjpe" appointed as Chief Operating Officer of Foods and Refreshment division
Anglo-Dutch consumer goods giant Unilever promoted Nitin Paranjpe, President of Foods and Refreshment division, to the position of Chief Operating Officer (COO).

He became only the 2nd Indian after Harish Manwani to be elevated to this role.
SC appoints P.S. Narasimha as a mediator to resolve disputes of cricket administration in BCCI
The bench also asked Mr. Narasimha to look into the dispute relating to release of funds by the court-appointed a committee of administrators to various cricket associations.
AWARDS
Indian social entrepreneur Padmanaban Gopalan wins Commonwealth award
Padmanaban Gopalan, the founder of No Food Waste, was named the winner of the award worth 3,000 pounds at a ceremony at the Commonwealth Secretariat in London for his work towards achieving the UN's Sustainable Development Goal (SDG) of Zero Hunger with his innovative system of recovering excess food to distribute to those in need.
The program works with volunteers and local authorities to collect excess food from functions and restaurants and delivers them to "hunger spots" mapped by the company to feed hungry people.
Seema Mehta bags 'Nari Shakti Puraskar' award
Renowned Kathak dancer Seema Mehta has been conferred the 'Nari Shakti Puraskar' award for her contribution towards women empowerment over the last 15 years.
She received the award from President Ram Nath Kovind at Rashtrapati Bhawan in New Delhi as part of the Women's Day celebrations.
Mehta, who began her journey in Kathak set up her dance school in Mumbai in 2010. She is also the Director of 'Chhandam Nritya Bharati'in Mumbai and was actively involved in the promotion of Kathak dance form.
Sweden's 16-year-old Greta Thunberg nominated for Nobel Peace Prize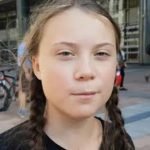 A 16-year-old Swedish student Greta Thunberg, the, and activist has been nominated for a Nobel Peace Prize for her efforts in climate activism and fighting global warming.

If she were to win, she would be the youngest recipient since Pakistan's Malala Yousafzai, who was 17 when she received the Nobel Peace Prize in 2014.
SPORTS
Argentina and Colombia will co-host Copa America 2020
The decision was taken by the board to bring 'South American football to the fans'.
JP Duminy has announced retire from the ODI the ICC World Cup 2019
South Africa's JP Duminy has announced that he will retire from the ODI format after the ICC World Cup 2019.

The 34-year-old made his ODI debut against Sri Lanka in 2004 and has played 193 matches in the format.
DRDO anti-tank missile test-fired successfully
A man-portable anti-tank guided missile (MPATGM)was successfully test-fired in Rajasthan The missile has been developed by the Defence Research and Development Organisation (DRDO).

The indigenously developed, low-weight missile operates on a "fire and forget" principle, which means it does not require guidance after the launch.
TERI to set up incubation center in Odisha for biotech solutions
The Energy and Resources Institute (TERI), one of the country's leading think-tanks, will set up an industrial incubation facility of TERI-Deakin Nanobiotechnology Research Centre, in Odisha.

The facility will support the development of biotechnology solutions to address issues affecting agriculture, environment, and energy.

The TERI-Deakin Nanobiotechnology Research Centre (TDNBC)offers to participate and to support the state government's vision to promote and to assist further in implementing innovation and translational research.
 200 Golden Jubilee Scholarships awarded by India  to Nepali students
The Embassy of India in Kathmandu awarded 200 Golden Jubilee Scholarships to meritorious Nepali students for continuing their studies in various undergraduate courses at different universities and colleges across Nepal for the academic year 2018-19.
In 2002, India started the prestigious Golden Jubilee Scholarship scheme to mark the completion of 50 years of India-Nepal Economic Cooperation.
IIT Roorkee ties up with ISRO for space tech cell
The Indian Institute of Technology (IIT) Roorkee in Uttarakhand said it tied up with the Indian Space Research Organisation (ISRO) to set up a Space Technology Cell at its campus.
ECI to launch Observer App
The Election Commission of India (ECI) is to launch the Observer App, a mobile application, that will help  to submit reports of poll observers. The poll observers will get all the important notifications and alerts through the 'Observer App'.

It will also help them get their deployment status and download the ID card.
"Modi Hai to Mumkin Hai" as  slogan for the upcoming Lok Sabha elections
for the upcoming Lok Sabha elections,The Bharatiya Janata Party (BJP) has chosen "Modi Hai to Mumkin Hai" as its slogan , Finance Minister Arun Jaitley has announced today.
Jaitley further claimed that PM Modi had an "indefatigable approach" and worked round the clock for the past five years, achieving results that would not have been possible otherwise.
OBITUARIES
Prominent Lingayat pontiff Maate Mahadevi passes away
Prominent Lingayat pontiff and Basava Dharma Peetha President Maate Mahadevi breathed her last at a private hospital. She was 74. Installed as 'Jagadguru' in the 1970s, Maate Mahadevi established several educational and religious institutions and published several books.
In 2017-18, she was at the forefront of a movement in Karnataka demanding separate religion status for the Lingayat community.